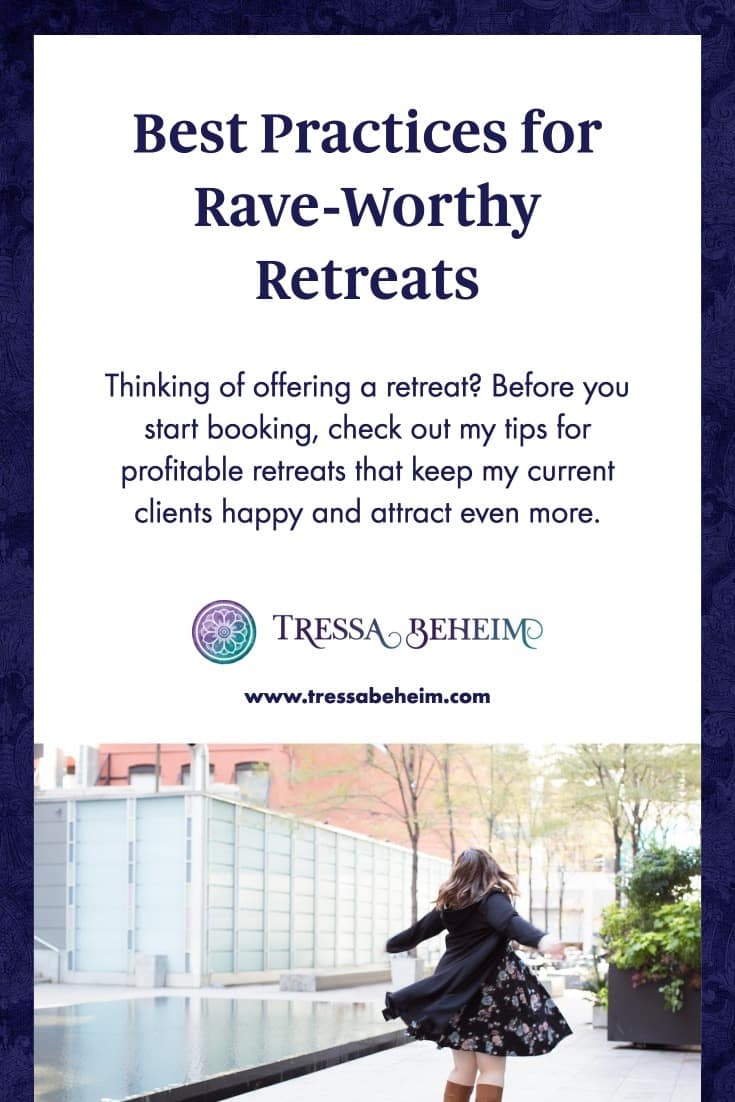 Once you have an established audience and consistent revenue, adding a higher ticket offer like a retreat can be a good idea. Be aware though that retreats can have a variety of costly pitfalls that you'll want to avoid. I've worked with several clients to add retreats to their business and we've learned some valuable lessons in the process.
So let's talk about my favorite best practices for retreats:
#1 Start local
A great way to start offering retreats is to keep your first one local. This doesn't mean you're limited to your hometown, but consider keeping it within an easy driving distance. This allows you to check out any potential locations in person as well as make the preparation phase more manageable.
This can also make it easier to recruit vendors and interact with them personally. There are so many logistics involved with a retreat or live event that this will surely make the process smoother.
#2 Keep your initial deposits as reasonable as possible
Even with an established audience a retreat can be a bit of gamble. The physical location for your retreat will often be the most substantial expense. While you will likely want to have your location selected before marketing the retreat, be cautious about any non-refundable deposits – especially substantial ones.
Some locations will require a 50% deposit to book the dates while others may only need a single night's stay to confirm booking. You may also find that some do allow for refunds with a certain timeframe. I had one client who found a location that did require full payment upfront but allowed a $250 insurance fee that would let her get a full refund up to 7 days prior to the event.
Be sure to carefully review any contracts or rules regarding cancellation and refunds as well as the balance of your location expense. You certainly, don't want to lose $10,000 on a location you don't even use!
If at all possible, consider paying the deposit for your location (or at least the substantial part) only after you sell the first few spots.
#3 Understand all your costs
All of the little expenses can add up during the prep phase. It is very important to price out all of the various expenses you'll have beyond the basics of location, food, and any staff.
Be sure to account for anything else you want to include like:
Transportation to and from the location
Transportation during the event
Attendee gifts
Attendee supplies for activities
Other activities outside of the location
Flowers, decorations, etc.
Additional snacks and drinks not provided by the caterer.
These may seem like small expenses compared to the big things like location, lodging and catering, but they can add up to a substantial amount. If you don't properly plan for them, you may have to cut things you wanted or eat into your event profits.
Once you have a solid picture of the hard event costs, also be sure to factor in your prep time. Events and retreats require a ton of organizing during the prep phase. People often underestimate how much work it is to market and fill a retreat at the front end. While there are likely lulls between when you initially announce a retreat and when it happens, there will be consistent work going on behind the scenes.
Similarly, be sure to factor in your time during the event. You'll likely be engaged with some aspect or another for the majority of your waking hours. So, you want to be sure your price accounts for that time as well since other revenue-generating activities probably aren't possible while you're busy with the retreat.
#4 Get help
When you're establishing the price for your event, be sure to consider all the help you'll need. It may be tempting to keep costs low by forgoing any help during the event, but you will likely need it — especially for your first one. The most successful retreats allow the business owner to focus fully on their guests, which doesn't leave a ton of time for organizing other logistics like schedules, meals, vendors, etc.
This type of help is often overlooked but it will help you run a retreat smoothly as well as reduce the burden of handling everything alone.
#5 Don't over schedule
When determining how to structure your retreats, don't throw in everything under the kitchen sink, allow for plenty of blank space in the schedule so your guests can have some leisure time to get to know each other. If you're presenting content, it is also a good idea to allow time for your attendees to integrate what they're learning.
It is also likely that things will take longer than you anticipate. Whether it's a workshop or a meal, your guests will appreciate the time to fully enjoy the experience and not have to immediately rush to the next thing.
This "in-between" time is often where a lot of the magic happens for attendees!
#6 Consider a smaller event
Overall, many business owners underestimate the time, energy, and investment a retreat requires. So while it can be tempting to start with a long event or a huge number of spots, starting small is often a better idea. This allows you to work out the logistics with a smaller group or a shorter schedule — both of which will greatly reduce your stress levels! It will also help you stay fully involved in the prep phase and the execution of the event so you can master both processes as much as possible.
Keeping your first retreat relatively small will also help you deliver an amazing experience for your guests, which will only help you fill your next one.
These best practices have helped my clients book many successful retreats that have added a profitable revenue stream to their businesses. If you're looking to start planning your next retreat, keep them in mind as you plan.
When I first considered hosting a retreat, I was terrified that if I charge "too much," no one would come. However, I had already built a loyal fan base, and believed that they would love this retreat. So I invested my energy and my money into creating exactly the kind of retreat my clientele desired–meaning, I hired a designer and developer to create a beautiful landing page, brought talented professionals on board as my staff, secured a luxurious location, created fun and attractive plans. None of this was cheap–retreats certainly involve a decent front-end investment. However, since I started doing retreats, I have more than doubled my revenue in a single year. If done right, and pitched to the right audience, retreats can change your business completely.

Dr. Lindsay Byron, LuxATL.com